This post may contain affiliate links. If you buy thru these links, we may earn a commission at no additional cost to you.
---
If you've got a website, then you've probably searched frantically for free photos at one time or another.
Following are the best places to find free stock photos for your personal website, online newsletters, and more.
Interestingly… here's an article about the "free" use of thumbnails (such as those from AP) on your own website. This debate first arose when Google started doing it.
Where To Find Free Photos
These are the best free photo sites that I've found (and used) so far: 
Good To Know Before You Use Free Photos
Two important things to remember:
Even though all of the above sites offers free stock photos, be sure to read the terms and license fees for each individual photo that you plan to use — especially if you're using it for business or commercial purposes. Sometimes, limitations still apply.
Most sites that offer free photos also sell photos as well. Each time you use a free photo site's own search tool, be sure you're looking only at the free photos that show up — because pictures that you can purchase will also show up in the search results.
Downsides Of Using Free Photo Sites
Personally… while I still use the free photo sites once in awhile, I've found 3 big downsides:
#1 – I quickly got tired of seeing the exact same image that I had used in an article show up on other websites. It's perfectly legal and legit… but it doesn't make your stuff very unique.
#2 – The number of photos that turn up when you search the site for a specific word (like "dog" or "flower") on most of the free photo sites is relatively limited — compared to the paid photo sites.
#3 – It's a relatively slow and tedious process to find a "great" photo on the free photo sites, simply because most of them are not well-organized. That, or their database is just too small — so you end up having to check a bunch of the free photo sites just to find one photo that's unique and that you like.
So after relying on the free photo sites for awhile, I eventually set out to find the best, most affordable photo subscription service to try.
Through the years, I've tried a number of them. Today, I get most of my pics from Deposit Photos..
Trust me, I've explored them all (and I even used Shutterstock and iStockPhotos religiously for a couple of years), but I've found that:
Deposit Photos has the best prices.
They have literally thousands of photos to choose from for practically any word you search!
The photos do not require attribution.
The photos are categorized and tagged really well.
It's easy to save your favorites to folders — in case you decide to download them later.
 And did I mention it's the most affordable one I've found?
I have the Flexible Plan at  Deposit Photos — photos are $1 apiece and you get 25 downloads per month. And if you don't use all of your 25 in any given month (and you've chosen "auto-renew"), any unused photo downloads carry over to the next month… for the entire time that you're a subscriber! So I don't "waste" photo downloads anymore — like I used to with other photo subscription services. I LOVE that part!
Bottom line: Deposit Photos meets my needs to a tee. If you don't want all of the images that you use to look identical to others' photos on the Internet, then you might want to look into a photo subscription service like Deposit Photos.
Like this post? Save it to read again later… or share with others on Pinterest!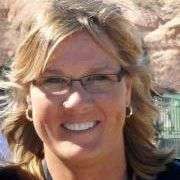 I'm a Photographer who's been documenting every moment of my life in pictures… for decades! I currently have 171,285 photos saved in 6,034 albums online (backed up in 3 different locations). Pet Photography and Travel Photography are my favorites — I'm always taking pictures of our dogs at home and of us on our multi-day motorcycle trips. When I'm not snapping photos, you can find me at the corner of Good News & Fun Times as publisher of The Fun Times Guide (32 fun & helpful websites).