This post may contain affiliate links. If you buy thru these links, we may earn a commission at no additional cost to you.
---
The Canon Powershot Elph is, without a doubt, the best small camera that I've ever owned — and I've owned a lot of cameras!
I use it primarily when we're motorcycling across the country. We take 2 to 3 long trips each year, in addition to all of the local riding we do.
I've had both the Canon Powershot Elph 330 HS and the Canon Powershot Elph 340 HS. (I accidentally pushed in the lens cover on the first one after using it for 2 years. So, after 1 year of using a safety pin to open the lens cover manually, I finally decided to get another one just like it.)
Both of the Canon Elph cameras are pretty much identical. If there are more features on one or the other, I've never taken advantage of them. The features that I've used for normal point-and-shoot photos are identical on both cameras.
I can't say this enough: I absolutely love the Canon Elph digital camera as a travel camera!
Just to be clear:
I'm the passenger while hubby does the driving on our 2015 Harley Road Glide CVO.
We travel cross-country on our Harley a lot — approximately 30,000 miles each year. 
And I take anywhere from 2,000 to 4,000 photos on each long trip.
What I'm Looking For In A Camera
Initially, I went looking for a lightweight and small camera that takes great action shots — and that I can operate with one hand.
Beyond that, the #1 most important feature that I want in a point-and-shoot camera (for motorcycling and other action shots, as well as low-light shots) is: a fast shutter speed!
When you're going 40 mph to 70 mph and you see something that you want to get a picture of real fast, you need the shutter to open right away so you can snap the photo right away. And you want the image to be crisp and clear.
This camera does it! The Canon Elph Powershot 340 HS is definitely the best compact digital camera I've found — especially for motorcycling.
Pros & Cons Of The Canon Powershot Elph
As with anything, there are pros and there are cons. Here are the upsides and downsides, as I see them.
My favorite features:
Powers on fast — so you can quickly frame up the shot… while you're moving
Fast shutter speed (1/2000 of a second) — so as soon as you press the button, the shot takes right away… there's no lag
Continuous shooting mode — 3.9 frames per second (fps)
Super lightweight — easy to carry in your pocket or purse
Small size — 2.27 inches x 3.93 inches x 0.88 inches (smaller than my Droid Turbo phone)
Easy to operate with one hand — including powering on/off, zooming in/out, and taking photos
Built-in optical image stabilizer — so if your hand is shaking, the photo still looks clear
Good low-light capabilities — Canon's HS (high-speed) models produce better image quality in low light conditions than Canon's IS (image stabilization) models do. The HS models do have image stabilization built-in as well
Takes 1080p full HD video — good quality mp4 videos at 30 frames per second
Large 3-inch full color LCD screen — which is where you look to frame up shots (so you don't have to look through a small viewfinder) and to see the shots you've already taken
12x optical zoom is plenty — for action shots, you don't want to use a lot of optical zoom, and never use the digital zoom (be sure to turn that off)
Ideally placed buttons — you want the most-used buttons to be placed where they are easiest to reach, and you don't want any placed where you keep accidentally hitting them
Easy to delete photos immediately after taking them — this is the feature that I use the most… it's a simple 2-step process
Power-saver mode — saves battery life
Wall charger for battery is thin and compact with prongs that fold in — so they're out of the way during travel
Low price — very reasonable for everything that you get
Tons of creative modes — for better quality photos in unique situations (like fireworks, snow, etc), as well as special effects (similar to Instagram's filters)
The downsides:
The LCD viewfinder is sometimes hard to see on very sunny days outside.
I'll be honest, both of the Canon Elph cameras I've owned came with wireless mobile syncing. However, I have never been able to get the mobile syncing to work consistently. I'm not alone — I've read dozens of complaints about Canon's mobile syncing instructions and syncing apps and repeated failures. The syncing was one of the reasons that I initially decided to buy this camera. But it's not a dealbreaker for me. While I'd love to share photos to Facebook or with friends wirelessly, it's very easy to upload the photos from the camera to a laptop (or to the Cloud) manually.
I wish I didn't have to carry around a separate battery charger. It would be nice to be able to charge the battery via USB while the battery is still inside the camera.
How To Get Photos From Camera To Laptop While Traveling
These days, I just use a 32 GB memory card inside my Canon Elph camera. It's got plenty of space to hold the 2,000-4,000 photos that I take over the course of a 2-month motorcycle trip. Then, when I get home, I upload them all onto my laptop — one day's worth of photos at a time (using the steps outlined below).
In the camera's Menu Settings, I've selected the following:
File Numbering = continuous
Create Folder = daily
In the camera's Function Settings, I've selected
Still Image Aspect Ratio = 4:3 8M (3264 x 2448)
Before I had the 32 GB card, I used to upload my photos to my laptop (actually, my Chromebook) every few days while traveling. Here's how:
Remove the memory card from the camera.
Insert the memory card into the laptop/Chromebook.
Click "yes" to let Google Drive backup all of those photos to the Cloud. (It happens automatically each time you insert a memory card, if you've already installed Google Drive.)
Open Flickr, and log in to your personal Flickr account. (It's free, and you get 1 TB of storage space in the Cloud.) Click the "upload" icon, choose which Album you'd like the photos to go into, add any Tags you might like, and click "Upload".
In your taskbar (lower right corner of the laptop/Chromebook), click Eject to safely remove the memory card.
That's it!
Then, whenever I have time, I go back and delete all of the bad photos. I also add specific Tags that will help me find certain pictures faster — months or even years later. (When you have a lot of photos, you definitely want to be sure to Tag them. Otherwise, you'll be scrolling and hunting forever anytime you want to find a specific picture.)
TIP: In case you're wondering, I have my entire lifetime of photographs stored on Flickr (over 87,000 photos) and I'm only using 18% of the 1 TB free storage.
Other Digital Cameras I've Tried
Since we've been motorcycling (4 years now), I've also tried a Samsung WB150 point-and-shoot camera, as well as a SONY Cybershot point-and-shoot. I liked them both, but not nearly as much as the Canon Powershot Elph.
I also own a full-size Nikon D80 DSLR. But the smaller compact digital cameras are easier when you're on the go a lot — and you need to pack light.
For the past couple years, I've thought about trying the Samsung Galaxy Camera 2 with Android built-in. But my friend Julie (a fellow motorcyclist and avid traveler) has it, and she's not overly thrilled with it.
In fact, she ended up buying the exact same Canon Elph camera that I have — since it has worked out so well for me as a travel camera. I don't think she even carries the Samsung Galaxy Camera with her anymore.
These are the reasons I've decided not to buy the Samsung Galaxy Camera — yet:
Slow shutter speed. As mentioned above, I've learned that's my #1 requirement in a camera that I use while motorcycling (or when taking any action shots).
Too many steps to open camera lens, navigate to the shutter screen, and actually take a picture. This alone would make it impossible to take pictures quickly on the go.
Too big and bulky — and slightly heavy. It weighs 11 oz., compared to my Canon Elph that weighs 5 oz. That's a significant difference when you're holding it (on a motorcycle) for hours at a time, getting on and off the bike with it in your hand, and toting it in your shirt pocket or pants pocket on occasion.
Someday, I would like to have a point-and-shoot that automatically syncs your photos to wherever you want and that acts like a mini computer. So I'm definitely looking forward to seeing the changes they make to future versions of the Samsung Galaxy Camera with Android built-in.
The best camera in the world is the one that you have with you.
Whatever camera you decide to travel with, just be sure that you have it with you at all times!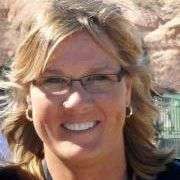 I'm a Photographer who's been documenting every moment of my life in pictures… for decades! I currently have 171,285 photos saved in 6,034 albums online (backed up in 3 different locations). Pet Photography and Travel Photography are my favorites — I'm always taking pictures of our dogs at home and of us on our multi-day motorcycle trips. When I'm not snapping photos, you can find me at the corner of Good News & Fun Times as publisher of The Fun Times Guide (32 fun & helpful websites).