This post may contain affiliate links. If you buy thru these links, we may earn a commission at no additional cost to you.
---
Got an old laptop lying around?
I had one that was so outdated and slow that we tossed it away in the closet to use for parts or something one day.
Well, I just discovered an AWESOME and FUN use for it now:
Turn it into a very large digital photo frame!
Here's how…
How To Use An Old Computer Monitor or Laptop As Digital Photo Frame
There are 5 easy steps:
Copy your favorite pictures onto a thumb drive or memory card. Make sure you put all of the individual photo files into a single folder that's used just for these photos. (I created a new folder — right click…new… folder — and named it TransferPhotos.)
Put the thumb drive or memory card into your laptop and drag (or copy) the entire folder (TransferPhotos) that you put those pics in TO your laptop's hard drive. (I just copied it onto my laptop's desktop screen.)
Open your laptop's Control Panel. Then open Appearance & Themes then Display Properties (on Win 98 computers) -OR- Appearance & Personalization then Change Screensaver (on Win 7 computers).
If yours is a Win 98 computer: in the Screensaver dropdown box choose My Picture Slideshow. Then click Settings -> Browse to select the folder where you digital photos are stored (TransferPhotos). Next, select "wait 1 minute". Finally, click the Adjust Monitor Power button and select NEVER for all 3 "when plugged in" options. Finally, click OK.
If yours is a Win 7 computer: in the Screensaver dropdown box choose Windows Live Gallery. Then click Settings -> Browse to select the folder where your digital photos are stored (TransferPhotos). Next, select "wait 1 minute". Finally, click Change Power Settings, then Power Saver -> Change Plan Settings and select NEVER for all 3 "plugged in" options. Finally, click OK.
Wait 1 minute… your photo slideshow will begin, and it will never stop until you move the cursor on the laptop screen!
You can do this with any old desktop computer or laptop computer… as long as it still turns on and the Windows program is still working.
The best part: it's completely FREE!
That's right, it doesn't cost a penny to do this.
You're welcome.
Digital Photo Frames Are Conversation Pieces
I happen to love digital photo frames.
I have 2 'regular' storebought ones, in addition to my new — very large — laptop digital photo frame!
One of my digital photo frames is fairly big and super modern in that it syncs with my Google Cloud photos (or Picasa albums). It's the Pix Star digital photo frame. Any time I add or remove photos in a specific folder, my digital photo frame automatically gets updated at the same time. Love that! It's also great as a gift. With this digital photo frame, you can give your friends or relatives a unique email address and they can email new photos directly to your digital photo frame! (Or vice versa. If you buy it for them, you can upload photos to their photo frame!) It's fairly expensive, but definitely a nice splurge if you can afford it.
The other digital photo frame I have is smaller, and I like that it takes up less space on my bookshelf. The ViewSonic digital photo frame sits inconspicuously out of the way, yet it's an obvious focal point in the room. I often enjoy glancing toward the frame to see which photo is showing throughout the day. And I find myself reminiscing about the good times, while thinking of ways to make some new memories.
Both of those digital photo frames are displayed near the main entryways in our house. They're a great conversation starter whenever people come to visit. At the same time, Jim and I always find ourselves commenting about a fun memory that the random photos often trigger.
My new laptop digital photo frame sits on a table upstairs — near the guest bedroom and our office. It's nice to see fresh photos flashing across the screen throughout the day. A great reminder of all the fun times we've had.
Whether you buy — or make — a digital photo frame yourself, I strongly encourage you to consider adding at least one to your home. You'll be glad you did!
UPDATE: Yet Another Large Digital Photo Frame
I recently got a new laptop.
What did I do with the old laptop?
It's serving as yet another laptop digital photo frame in our home. Yep, one more awesome slideshow of digital photos filled with memories for us to enjoy!
The best part: since I've got about 400+ photos stored in each digital photo frame (and in the slideshows that I'm playing on the old laptops), we rarely see the same photo twice. So everytime we walk from one room to another in our house, we're seeing yet another photo that we haven't seen in awhile.
And, of course, they're all new to our houseguests — so they're really great conversation pieces.
UPDATE: Hubby Upgraded His Laptop… I Got Another Digital Photo Frame!
This one sits in our dining room, near the kitchen:
So my grand total is currently 3 laptop digital photo frames, and 2 storebought digital photo frames.
(We travel a lot, so we take a lot of pictures.)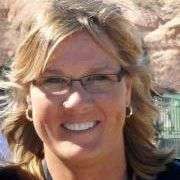 I'm a Photographer who's been documenting every moment of my life in pictures… for decades! I currently have 171,285 photos saved in 6,034 albums online (backed up in 3 different locations). Pet Photography and Travel Photography are my favorites — I'm always taking pictures of our dogs at home and of us on our multi-day motorcycle trips. When I'm not snapping photos, you can find me at the corner of Good News & Fun Times as publisher of The Fun Times Guide (32 fun & helpful websites).