This post may contain affiliate links. If you buy thru these links, we may earn a commission at no additional cost to you.
---
I'm usually the one taking all the photographs. Rarely am I in them.
However, I was recently photographed in a posed group photo with a few girlfriends. And 2 things about myself quickly came to mind:
#1.  I should have stood in the back row!
I'm tall and a few pounds over my ideal weight right now, so not only did I look like a giant compared to the other (much shorter) girls in the photo, but I also looked much wider because of the way I was standing for the group shot.
#2.  I wish I owned body slimming undergarments!
What a difference a little spandex would make! So I immediately invested in a cute little cami made with 30% Spandex for the upper half. And I'm even thinking of trying a pair of SPANX for the lower half. I've heard great things about SPANX Super Higher Power shapewear, and they're highly rated by Consumer Reports & ShopSmart magazine as well. They say SPANX will help you look 10 pounds slimmer in photos. (By the way, they make men's shapewear too.)

It's the biggest name in shapewear for a reason. These instant slimmers took a full inch off everything between the waist and thighs of our volunteers — without pain, bulges, or making them look like stuffed sausages.

—ShopSmart magazine editor
In addition to simply being conscious of how I'm standing, which way I'm looking, and how I'm smiling for photos from now on, this one bad photo experience sent me on a quest to find some "expert" tips that help you look your best in photographs.
The fact that there are so many people sharing tips for looking better in photos — as evidenced by all of the hyperlinks below — shows that I'm clearly not the only one who thinks this way. (Whew!) And if you're reading this, then you must have your own personal reasons for wanting to look better in photos too.
Following are some of my favorites. Pick & choose the ones that apply to your own trouble spots.
How To Look Great In Pictures
Let's face it, photos are a huge part of our lives these days.
From Facebook albums to scrapbook albums, we are all taking and sharing more photos than ever before. And this means that most of us are appearing in more photos as well.
Who doesn't want to look great in photos?!…
These tips will come in handy any time you're asked to pose for a photo. They're particularly useful if you're:
attending or participating in a wedding, graduation, or some other party
taking photos for blogs, websites, scrapbooks, or photo books
trying to attract a partner via an online dating site
posing for holiday photos
By reviewing the following tips, you will have a better sense of the little things that make a big difference in how someone looks in photographs.
How To Make Your
Body

Look Better In Photos
How To Make Your
Face

Look Better In Photos
Summary
Finally, if you really want to look great in photos, then it's worth it to practice posing for photos. You might want to do this when no one else is looking, or you may find it more helpful to have someone actually take photos of you. After all, the proof is in the pudding.
It's helpful to know which side of your face is your best side. You can determine this either by looking at other photos that you're in, or by staring at your face in the mirror. Usually it's the side your hair is parted on, but if you're unsure then turn to the right and show off your left cheek in photos — because it's sexier.
Once you find the pose that works best for you, stick with it.
That way, you won't look stiff and unprepared when future photos are taken. You'll always look your best!
(Or, just stand in the back row… like I did here:)
Other Interesting Tips For Looking Great In Photos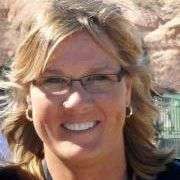 I'm a Photographer who's been documenting every moment of my life in pictures… for decades! I currently have 171,285 photos saved in 6,034 albums online (backed up in 3 different locations). Pet Photography and Travel Photography are my favorites — I'm always taking pictures of our dogs at home and of us on our multi-day motorcycle trips. When I'm not snapping photos, you can find me at the corner of Good News & Fun Times as publisher of The Fun Times Guide (32 fun & helpful websites).