This post may contain affiliate links. If you buy thru these links, we may earn a commission at no additional cost to you.
---
In a study of digital camera owners, Canon, Panasonic, Pentax, and Olympus all rated highly in terms of product reliability and customer service.
On the other hand, HP, Kodak, Toshiba, and Vivitar got the lowest scores from owners of their digital cameras.
Nikon, Fuji, and Sony ranked middle-of-the-road.
In fairness, both Hewlett-Packard and Kodak sell more low-end cameras than other vendors, and since first-time buyers are typically more likely to buy the lower-end models.
This could explain HP and Kodak's higher rates of problems requiring calls to tech support.
Novice digital camera users tend to have more questions and lack the understanding that an experienced digital camera owner might have.
Our Own Digital Cameras Ranked Among The Best!
Personally, we've owned a Kodak EasyShare digital camera for years, and it has performed magnificently from Day One. It's the world's simplest digital camera to operate. And, it's a cinch to upload pictures to your computer from the Kodak EasyShare — whether you use their optional docking station or not.
We tried the docking station, but returned it after a few uses. The plus was that it always stayed at your desk plugged in — and therefore didn't eat up your camera's batteries whenever you were uploading pictures to the computer. However, with all the external memory card readers available for next to nothing these days — they do the exact same thing at a fraction of the cost!
We also have one of the most highly rated cameras: the Canon Digital Rebel. We couldn't be happier with this camera — it's top of the line to us. And while it costs more, it's SO worth it!
The 2 digital cameras we own (Kodak EasyShare and Canon Digital Rebel) ranked highest on the J.D. Power & Associates Digital Camera Satisfaction Study! The study measured owners' satisfaction with camera performance, now that digital photography has gone mainstream.
UPDATE:
I recently purchased the Canon Powershot Elph and I absolutely love it! It shoots quickly, so it's great for action shots when I'm riding on the back of our motorcycle.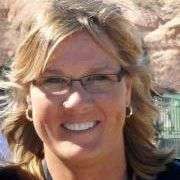 I'm a Photographer who's been documenting every moment of my life in pictures… for decades! I currently have 171,285 photos saved in 6,034 albums online (backed up in 3 different locations). Pet Photography and Travel Photography are my favorites — I'm always taking pictures of our dogs at home and of us on our multi-day motorcycle trips. When I'm not snapping photos, you can find me at the corner of Good News & Fun Times as publisher of The Fun Times Guide (32 fun & helpful websites).