This post may contain affiliate links. If you buy thru these links, we may earn a commission at no additional cost to you.
---
Film photography is dead, and digital camera sales are rapidly rising.
"By some tallies, 92% of all cameras sold are now digital. Big-name camera companies are either leaving the film business (Kodak, Nikon, Fuji) or quitting the camera business altogether (Konica Minolta)."
Source: New York Times
Because of this, the photo industry has begun to instill several important changes that will affect the future of photography.
Some of these are:
An end of the megapixel race. As many have been stating for years (and several others have been challenging for years), it now appears that 8MP is plenty. No longer are "more megapixels" required to print quality prints in all sizes. 

 
Now that most people are comfortable with "going digital", camera companies no longer feel compelled to make all digital cameras look and feel like film cameras. As a result, watch for major changes in the size, types of features, and overall look of digital cameras. 

 
The hottest new feature is image stabilization. This will eliminate the number of blurry pictures due to an unsteady hand, especially when the lense is zoomed way in on a distant object. 

 
Another feature to watch for: OLED screens. Organic light-emitting diode screens offer better brightness with much less power consumption. OLED screens will save on battery life. 

 
Cool software in cameras like: 
GPS (global positioning systems) — so as you browse your photos on a web page, you can see when you took them and where.
Face-recognition features — that scan the scene for human facial features and, say prevent the camera from taking the picture when your subject's eyes are closed or when your subject is actually grinning.
Cameras will begin to offer Wi-Fi wireless networking. This will enable you to send your photos to others via e-mail, post your photos on a web page, summon photos from your online collection to appear on your camera's screen, and upload photos from your camera to your computer more quickly. 

 
Enhanced view screens, including more touch-sensitive screens to reduce the number of buttons on the camera, and 3-inch and larger screens. Just imagine viewing photos on such a screen… it would be like viewing a stack of 3×5 printed photos! (Remember the days when that was the standard size?) 

Source: New York Times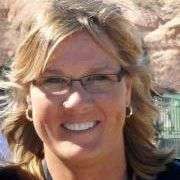 I'm a Photographer who's been documenting every moment of my life in pictures… for decades! I currently have 171,285 photos saved in 6,034 albums online (backed up in 3 different locations). Pet Photography and Travel Photography are my favorites — I'm always taking pictures of our dogs at home and of us on our multi-day motorcycle trips. When I'm not snapping photos, you can find me at the corner of Good News & Fun Times as publisher of The Fun Times Guide (32 fun & helpful websites).