This post may contain affiliate links. If you buy thru these links, we may earn a commission at no additional cost to you.
---
I initially heard about Sharpcast from Kim Komando:
"Once you sign up, you can download a small program. Then you start adding your photos to it. You can arrange them into different libraries. You can also share your photos with friends and family, so it's got that covered, too. Then, in the event something happens to your computer, backups — or, heaven forbid, your house — you can retrieve them from the Internet. You get 2 gigabytes of storage, so you have plenty of room. Did I mention it's free?"
She thoroughly researches programs that make your life easier in the digital world, and Kim Komando only recommends the best.
Her comments about Sharpcast picqued my interest, and I wanted to know more before I actually tried out the program for myself.
I found these incredible reviews:
CNN Money
Personal Technology (Walt Mossberg)
SiliconBeat.com
RedHerring.com
TheUnwired.net
DownTheAvenue.com
DigitalCameraInfo.com
By the way, I have yet to find any negative reviews. There are very few people who've pointed out downsides to the program.
In fact, Michael Parekh shared some questions/concerns he had about Sharpcast on his personal blog — things he wanted to know before he actually tried the program for himself — and the CEO of Sharpcast posted a comment on his blog the very next day, addressing each concern one-by-one. And the CEO's answers were exactly what we had hoped to hear …all good stuff, and even more reasons to use Sharpcast!
Here's more from Gibu Thomas, the CEO of Sharpcast from a video interview.
Okay, I'm in!
Why Sharpcast Rocks
I downloaded Sharpcast, and now I'm excited to start syncing everything between my home computer, Jim's laptop, and my PDA phone (Windows Mobile 5.0 on a Cingular 8125 phone). So far, it's really easy!
But even if you haven't got a PDA phone, or a laptop — or if syncing isn't exactly what you're after — consider Sharpcast for its backup capabilities.
Or better yet, simply use Sharpcast for the ease of sharing photos with friends & relatives! I'm telling you, it's like no other photo sharing program you might have tried (Flickr, Shutterfly, YahooPhotos). This one is SEAMLESS! Your photos can be viewed & managed from their website or from your desktop, cellphone, or laptop.
While the photo capabilities are way cool, I especially like the future enhancements which are in the works for Sharpcast — the ability to sync & backup files, documents, folders, calendars, and much more!
"The vision behind the company is this: Users shouldn't have to care where their data is. For files, e-mails, calendar items, music tracks, photos, and videos, no matter where a user first puts an item, it should be available on all of their devices or over the Web."
See for yourself… take the quick tour through Sharpcast's features online.
Get started using Sharpcast here.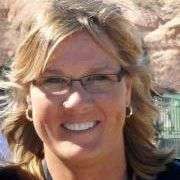 I'm a Photographer who's been documenting every moment of my life in pictures… for decades! I currently have 171,285 photos saved in 6,034 albums online (backed up in 3 different locations). Pet Photography and Travel Photography are my favorites — I'm always taking pictures of our dogs at home and of us on our multi-day motorcycle trips. When I'm not snapping photos, you can find me at the corner of Good News & Fun Times as publisher of The Fun Times Guide (32 fun & helpful websites).