This post may contain affiliate links. If you buy thru these links, we may earn a commission at no additional cost to you.
---
Perhaps you're a gadget lover who just has to have the next big thing.
Maybe you're looking for a gift for the person who seems to have everything.
Since today's high-end digital photo frames can do all sorts of things (they even double as simple computers for those who don't have one), a digital photo frame could be just what you need.
As with any technological gadget, a bit of background knowledge will help you choose the right one and buy more wisely.
Here's what you need to know about the differences between digital photo frames…
Digital Picture Frames: There's A Wide Range
If you think that a digital photo frame is just a way to display a photo, think again.
Even basic models are likely to have additional features, and at the top of the range you can do things you would do with a computer. State-of-the-art digital picture frames offer:
WiFi connectivity
The capacity to play audio files
The ability to play video
And other fabulous (but not necessarily vital) bells and whistles
Features and Considerations
Size: Measured diagonally, screen sizes are typically between 5 and 12 inches. What size do you need? That depends on what you want to display. You won't be doing justice to your landscape photos if you display them in a small frame. Also, be aware that the bigger the frame, the more resolution is required in order to ensure a crisp, clear image.
Resolution: The rule is the higher the better, within reason. 480 by 720 pixels will do for a 7-inch frame, and it scales up from there.
Aspect Ratio: Think of it as the proportions and shape. A ratio of 4:3 matches what most digital cameras produce. A 16:9 aspect ratio will either give you a widescreen or 'letterbox' image; or will stretch the image to fit.
Power and Connectivity: WiFi is handy because, otherwise, you would need to place your digital photo frame near a power source. But it can be overkill, depending on your ultimate intentions. Some digital photo frames have built-in batteries that will allow you to keep them on, unplugged, for an hour or two. You will also need to check compatibility with your digital camera's memory card. That said, most digital photo frames are compatible with most memory cards. Depending on how you plan to use it, you may want to check out USB ports and the like. (For example, if you want to play audio files, you may want to plug in speakers — if they're not already built in.)
Image Formats: Some digital photo frames are limited to displaying only one type of image file — like jpeg's, for example. However, you can always use a graphics program to save your gif's or other file formats to the one that's supported.
Operating Considerations: Depending on the features they offer, not all digital photo frames are equal when it comes to ease of use and navigating the menus. Some require a remote control, for example. So if you don't want yet another remote to hunt for, you could look for digital photo frames with touchscreen controls instead.
Most frames contain built-in memory, so you can store photos in the frame and then return the memory card to your camera. Some can store and play digital music to accompany photos and others can play short digital video clips, although not all of those can play audio with the video. Source

 
Bells and Whistles
You can connect wirelessly to the Internet with some digital photo frames. This enables you to do web browsing, email, sharing & printing photos, and other things that take place online.
A digital photo frame can definitely be a handy addition to your home network, but it's not likely to be as useful for your grandparents, who — at most — probably only want a slideshow of the grandchildren or to view some holiday or vacation photos.
At several hundred dollars for a high-end digital photo frame, you'll need to determine whether you really need that or whether a mid-priced model will do the job.
Abt Electronics: Digital Photo Frame Buying Guide
Without a doubt, digital picture frames have soared in popularity since their launch. They make handy desktop items in the office and can become a part of your stylish decor at home. With the most basic digital photo frames costing $50 or less, they're affordable, fun, and perhaps the perfect gift for some of the people on your list.
More About Digital Photo Frames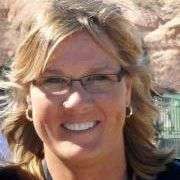 I'm a Photographer who's been documenting every moment of my life in pictures… for decades! I currently have 171,285 photos saved in 6,034 albums online (backed up in 3 different locations). Pet Photography and Travel Photography are my favorites — I'm always taking pictures of our dogs at home and of us on our multi-day motorcycle trips. When I'm not snapping photos, you can find me at the corner of Good News & Fun Times as publisher of The Fun Times Guide (32 fun & helpful websites).