This post may contain affiliate links. If you buy thru these links, we may earn a commission at no additional cost to you.
---
There are lots of creative and useful gifts you could get the photographer on your list — even if they only take pictures casually or with their phone.
Here are the best and most practical photo gifts, in my opinion.
#1 – Lens Cleaners
You never know when a spot is going to show up on the lens of your camera. If you care about your equipment, then you should care about the best ways cleaning your camera lenses.
A lens cleaning kit like the LENSpen to clean spots of your camera lenses and viewfinders. Even gets in hard-to-reach spaces! (See how the LENSpen works.) I have one of these, and I love it.
The Microfiber Lens Cleaning Cloth clips onto your camera bag — so it's handy, and you always know where it is! The properties of microfiber are among the best for cleaning and spot removal on glass surfaces. I have several of these.
#2 – Memory Cards
Every digital camera owner needs more than one memory card. You just need to know which type of memory card the camera uses (such as CompactFlash, Secure Digital, Memory Stick, or Xtreme Digital).
As far as memory card classes and sizes go… while 128MB is the smallest memory card size worth buying, avid photographers are typically more interested in the 32GB or 64GB memory cards — because they can store literally thousands of photos. And since the glory of digital photography is the ability to take more pictures than you ever did with film cameras, you probably take way more digital photos than you actually "need" (or plan to keep).
We've also had good luck with the SimpleTech brand of memory cards that are also available at Sam's Club.
#3 – Card Readers
Memory card readers make it possible to get your photos from your digital camera onto your computer.
The Lexar 6-in-1 card reader enables you to transfer photos, as well as data from other electronic devices (such as mp3s) to your computer lightening fast.
The SanDisk 8-in-1 multi-card reader accepts almost every type of memory card available. It requires no drivers, so there's no software to install — and it can be used on any computer with a USB port.
The very-low-priced Lexar JumpDrive Trio card reader functions as a card reader and a portable USB flash drive — all in one device! It even has the flexibility to be expanded and upgraded simply by inserting a different capacity Memory Stick, MMC, or SD card. Since no drivers are required, there's no software to download — so it's possible to use this on any computer with a USB port.
There are other ways to get photos off your phone, but some people (like my mom!) prefer to use a card reader.
#4 – Photo Printers
When it comes to photo printers, you should do some homework first before buying one.
You'll find that the higher the price, the greater the number of features (and the more advanced those features are). Prices can range anywhere from $60 to $500 and up.
Photo printers are designed to work especially well with their own brand of digital cameras (such as Sony, Kodak, or HP). This doesn't mean that you have to own the same brand of camera and printer, but it means that if you do, then you'll appreciate the shortcuts and time-savers that are built-in.
TIP: Since photo papers are made very differently by manufacturer, if you want the best prints possible, always choose the brand of photo paper that matches the brand name of your printer.
Considerations when choosing a photo printer include:
Features – for example, some have memory card readers and other high-tech options built-in
Availability of photo paper – for that particular brand (both in stores and online)
Cost of photo paper – for that particular brand (generic papers are cheaper, but don't produce the same results)
Type of ink – for example, scrapbookers prefer archival (pigment) inks
Number of ink cartridges – the fewer the cartridges, the more waste and expense in the long run. (When one color runs out, you have to replace the entire cartridge that contains that color. If your printer has tri-color ink cartridges, then you'd have to toss out the entire red/yellow cartridge even if it was only the red that ran out.)
Cost of ink cartridges – replacement ink cartridges will likely become the costliest part of owning a photo printer
#5 – Photo CD / DVD Organizers
They say every time you upload your photos from your camera (or memory card) to your computer, you should burn a copy onto a CD or DVD at the same time. Those CDs (or DVDs) become your "digital negatives" for all of the photos taken with your digital camera! The best part, even if you crop or otherwise edit a particular photo, and then find at some point that you wish you hadn't… you'll always have the original stored safely away.
Doing this, you'll find that your collection of CDs will rapidly begin to multiply — to the point where you need a CD organizer like this 150 CD/DVD Archiving System just to keep them all organized. Organizers like this also make it a quick and easy process any time you need to "find" an old photo!
And here's my top pick for a software photo organizer. It's a cinch to organize and tag all of your digital photos, so you can find specific pictures in a hurry.

#6 – Waterproof Camera Cases
If you like to take pictures at the beach, on the boat, or while swimming, there's nothing cooler than turning your current camera into an underwater camera with the simple addition of a waterproof camera case.
There's a waterproof case for almost every popular brand of camera today. (If you don't know someone's particular camera brand and model, then you might want to consider purchasing a disposable waterproof camera instead.)
There are lots of other photo gifts worth considering, but those are my favorites that I think just about everybody could use.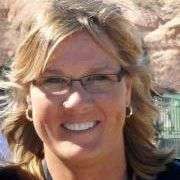 I'm a Photographer who's been documenting every moment of my life in pictures… for decades! I currently have 171,285 photos saved in 6,034 albums online (backed up in 3 different locations). Pet Photography and Travel Photography are my favorites — I'm always taking pictures of our dogs at home and of us on our multi-day motorcycle trips. When I'm not snapping photos, you can find me at the corner of Good News & Fun Times as publisher of The Fun Times Guide (32 fun & helpful websites).